Normal measurements
Knowledge of 'Normal measurements and reference values in Radiology' is absolutely vital in diagnostic radiology practice. All radiology residents and practicing radiologists must be aware of the normal measurements during their daily reporting. Here, we have compiled a list of 'Normal measurements and reference values in Radiology' to assist radiologists all over the world :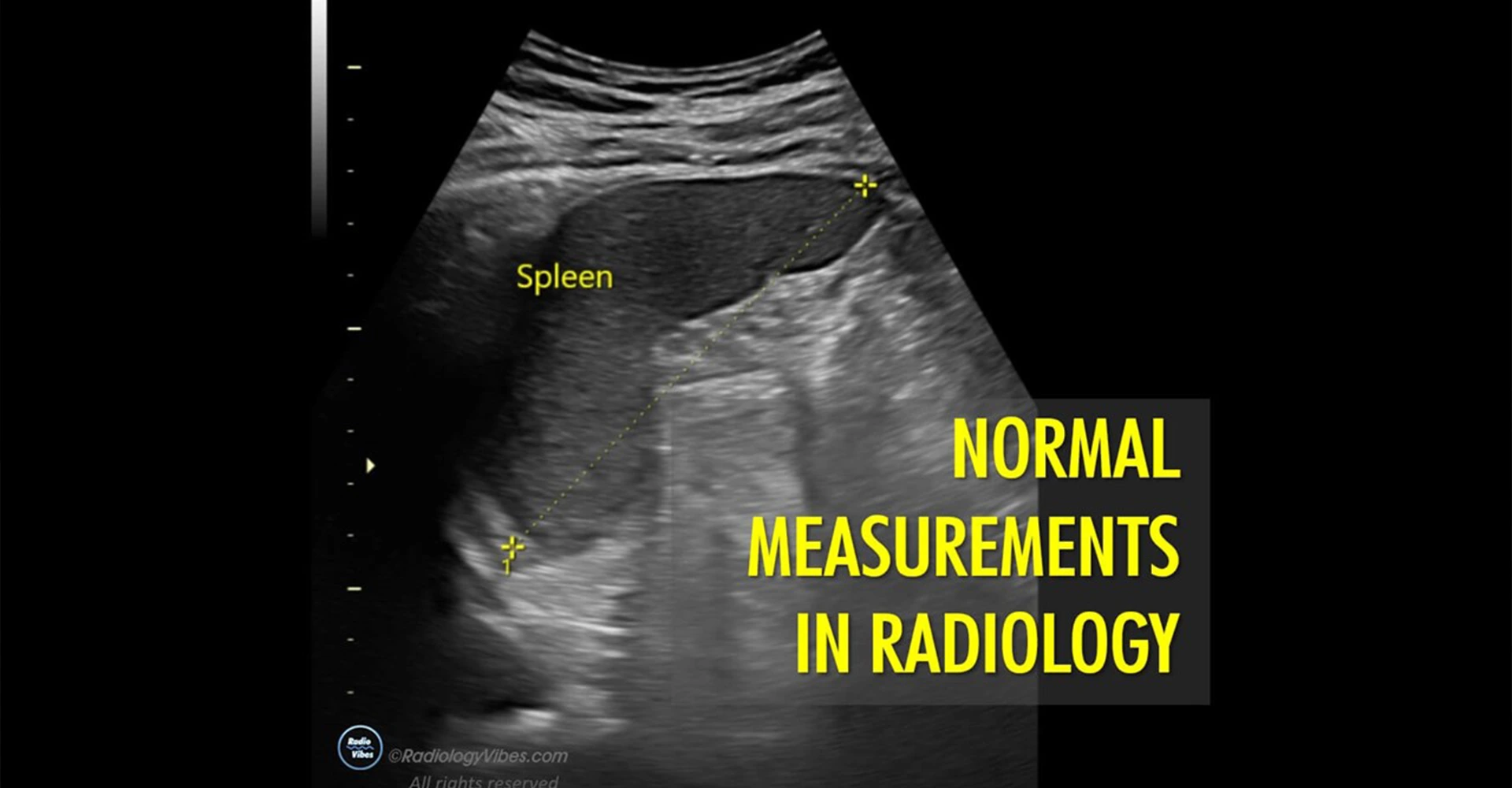 Liver :
Adults: 15.5 cm in craniocaudal axis
Children: upto (8 + AGE/4) is normal
Spleen :
Children: upto (6 + AGE/3) is normal
Gall bladder :
Wall thickness upto 3 mm is normal, Length >9 cm is considered distended
Common Bile duct :
Add 1 mm for every 10 years after the age of 60
Post-cholecystectomy: upto 10 mm is normal
Pancreas :
Pancreatic duct: upto 3mm
Bowel :
Wall: upto 3 mm in thickness
Air fluid levels: <3 is normal
Large bowel: diameter upto 5 cm
Small bowel: diameter upto 3 cm
Appendix: diameter upto 6 mm
Kidneys :
Left kidney is slightly larger than the Right kidney
Renal artery doppler :
Resistive index: 0.60 – 0.70
Acceleration index: >300cm/sec2
Acceleration time (Main renal artery): upto 70 msec
PSV (Main renal artery): 60 - 100 cm/sec
RAR (Renal aortic ratio): >3.5 is abnormal
Mesenteric lymph node :
<10mm in short axis diameter
Uterus :
Cervix: diameter upto 3cm
Endometrial thickness: (Pre-menopausal: upto 15mm) and (Post-menopausal: upto 5mm)
Skull basal angle :
125° - 143° (>143° = Platybasia)
Critical angle of Gissane :
Trachea :
Diameter: [Coronal: 13-25 mm (male), 10-21 mm (female)] and [Sagittal: 13-27 mm (male), 10-23mm (female)]
Mediastinal lymph node :
<10mm (short-axis diameter)
Main pulmonary artery :
29 mm (should be less than aortic diameter at same level)
Explore classic radiology cases at : Radiology Vibes Cases
References
Measurement of normal kidney length by sonography and its relation to age, sex, and body habitus (Kalpana Purohit et al) International Journal of Anatomy and Research, Int J Anat Res 2017, Vol 5(4.3):4668-73. ISSN 2321-4287
Emamian SA, Nielsen MB, Pedersen JF, Ytte L. Kidney dimensions at sonography: correlation with age, sex, and habitus in 665 adult volunteers. AJR Am J Roentgenol. 1993 Jan;160(1):83-6. doi: 10.2214/ajr.160.1.8416654. PMID: 8416654.
[Disclaimer: These measurements are for reference purposes only. Normal values differ with age, sex, height and weight of the individual. Readers are therefore advised to follow the reference values used in their institution. Radiology Vibes bears no responsibility towards diagnostic use of these reference values]